Überblick
The 6565 HF DC Bias Unit is intended to be used with a Wayne Kerr 6500 analyzer, either the 6500B Precision Impedance Analyzer or the 6500P HF LCR Meter. Its function is to provide a source of DC bias current through the Device Under Test (DUT) while the analyzer is making AC measurements. Each 6565 unit can provide up to 10 A of DC current, and up to six 6565 units can be connected in parallel to supply a maximum 60 A. A digital ammeter on the front panel allows the user to see the dc bias current value and an indicator LED shows when the bias current is enabled.
High current 50Ω coaxial cable is used to carry the DC bias current from the 6565 unit to the fixture. The measurement signal from the 6500 analyzer front panel is connected to the fixture using a dedicated cable, a control cable connects the rear panels of the 6500 and 6565, and a safety interlock cable is connected from the fixture to the rear panel of the 6565.
There are 3 models in the 6565 series. The models are defined by their frequency range as follows:
6565-05 20 Hz to 5 MHz
6565-30 20 Hz to 30 MHz
6565-120 20 Hz to 120 MHz
Any 6500 analyzer can be used with any 6565 unit. The maximum measurement frequency of the system will be determined by the instrument with the lower maximum frequency. For example, a 120 MHz 65120P used with a 5 MHz 6565-05 will have a maximum measurement frequency of 5 MHz
The 6500 analyzer controls the 6565 unit. The DC bias current is set as part of the 6500's measurement setup and the 6565's status and warning messages are shown on the 6500's display.
A common wound component measurement with the 6500B/6565 system is to measure the value of inductance as the DC Bias Current through the DUT is swept from 0A to the DUT's rated maximum current.
Another common technique is to use the Reference Trace function on the 6500B Precision Component Analyzer. This allows frequencies sweeps performed at different DC bias current levels to be instantly displayed and compared on the 6500B's display, as shown in the example screenshot below.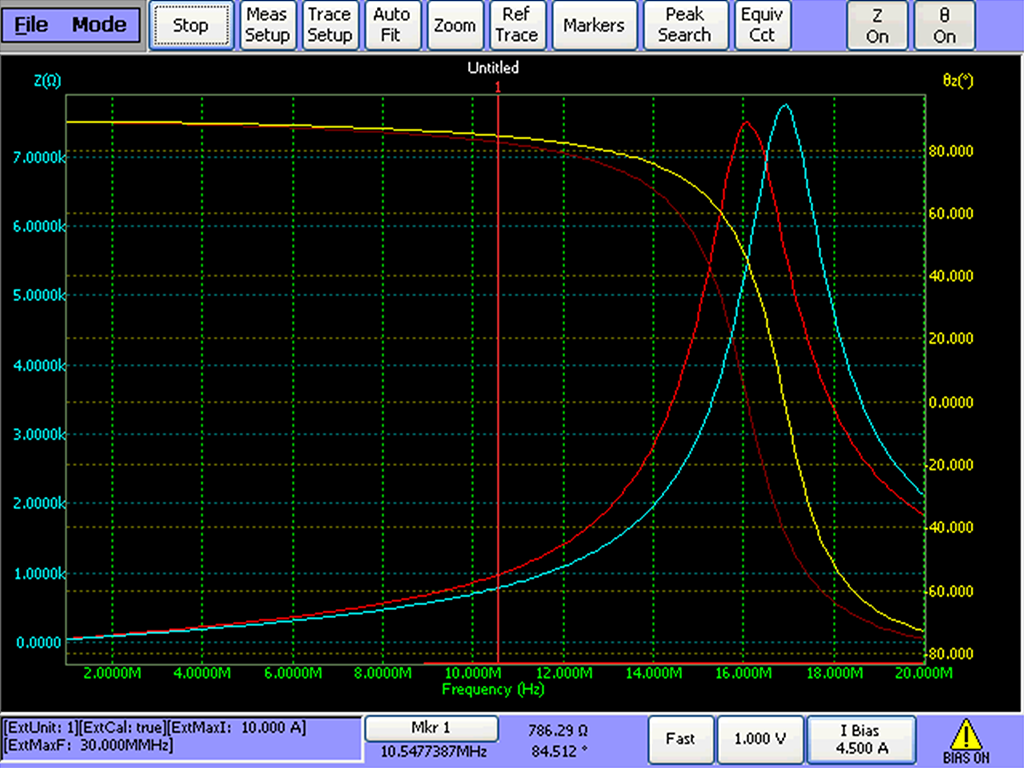 Frequency sweeps for Impedance and Phase Angle for 0 A and 10 A DC Bias Current
Hauptmerkmal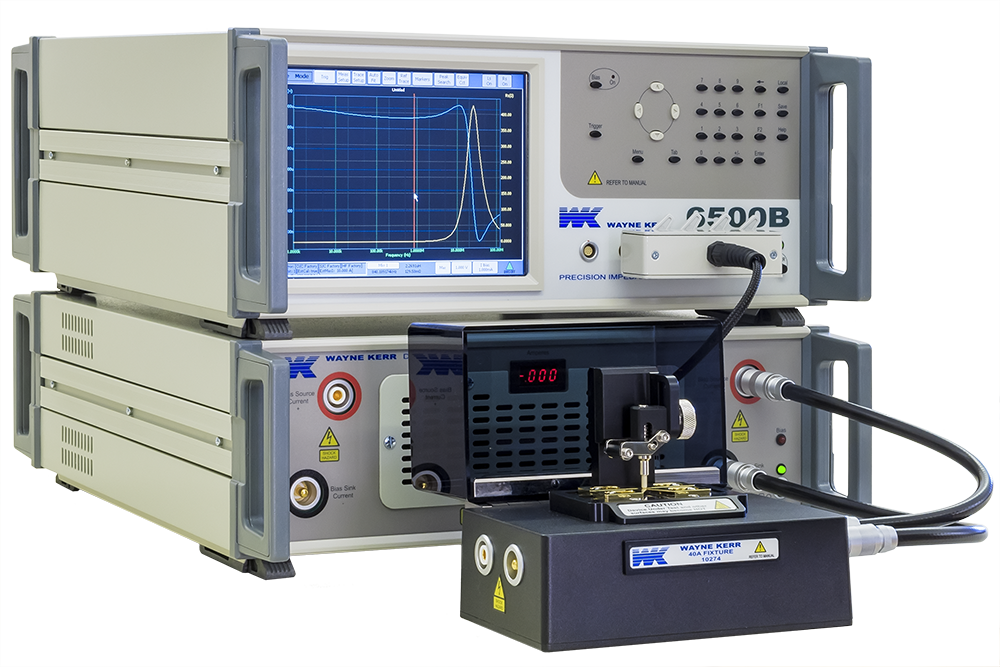 No comparable system is currently available from other manufacturers
Allows measurements up to 120 MHz to be made with 40 A DC Bias Current flowing through the Device Under Test
Measurements up to 15 MHz can be made with 60A DC Bias Current
6500B analyzer allows measurements to be made while sweeping DC Bias Current in value
Frequency swept measurements with different DC Bias Currents can be compared using the 6500B Reference Trace facility
Wayne Kerr fixtures provide a safety interlock circuit and other protection circuits to protect both the operator and the equipment under fault conditions
Technische Daten
Measurement Function
The 6565 series of DC bias units must be used in conjunction with either the 6500B Precision Impedance Analyzer or the 6500P HF LCR Meter.
Frequency Range
6565-05 20 Hz to 5 MHz
6565-30 20 Hz to 30 MHz
6565-120 20 Hz to 120MHz
Compliance Voltage
9V maximum at 1 V ac drive level
10V maximum at 0.25 V ac drive level
Basic Accuracy
±1%, Varies with measurement speed, frequency and options chosen.
Measurement Fixtures
1026 is applicable for currents up to 20 A and the 1027 for currents up to 40 A. For SMD use the 1031 adaptor must be used in addition to the selected 1026 or 1027
Input Specification
Universal 85 to 265 V AC, 47 to 63 Hz
Input current 4.2 A rms max.
Power factor Meets EN61000-3-2
Unit powers up automatically when connected to a powered
analyzer. Isolating switch provided
Measurement Connections
I2C bus link controls application of DC current and monitors status of analyzer. Status data includes excessive voltage drop and over temperature